History of the Church Hymnal
As the Church of God (Cleveland, TN) grew, the people expressed the need for a hymnal. In addition, the success of their Tennessee Music and Printing Company made this feasible. So, in 1951, they produced the Church Hymnal. Many today call it the Red-Back Hymnal.
The name Red-Back came from the maroon color of the cover. Although two colors, green and maroon, were available, the second became the most popular. Likewise, speaking of popularity, the sales of this hymnal went far beyond the Church of God. During the first 5 months, the publisher sold over 25,000 copies. The world-wide family of the Church of God had less than 221,000 members at that time. In total, to the date of my source, over 6 million copies of the Church Hymnal have been sold. In fact, Pathway Press still publishes this hymnal.
Content of the Church Hymnal
The compilers laid out a basic format for the Church Hymnal. The first hymn, "It's Just Like Heaven" by W. Oliver Cooper, comes immediately after the title page. The hymnal differs from many others in using page numbers instead of hymn numbers. So, this first hymn appears on page 2. The music selections end on page 410 and the 409 pages of music contain 429 songs. Within these pages lie a large selection of southern gospel and singing convention songs, as well as a few standard hymns.
Although not unique to it, the Church Hymnal only uses shaped-notes. Many other hymnals are published with both shaped-note versions and round-note versions. But, the Red-Back utilizes the seven shaped notes.
The Topical Index and a General Index follow page 410 to complete the simple layout of the Church Hymnal.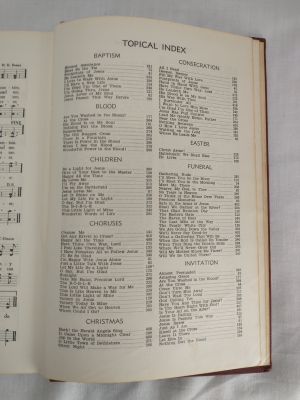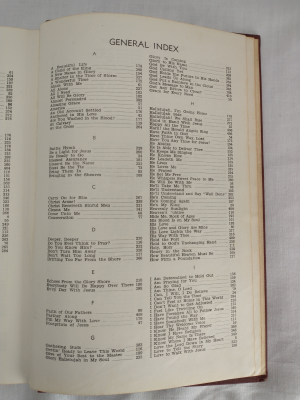 I would guess that the popularity of the hymnal rises from several factors. First, the simple layout of the hymnal contributes to ease of use. Second, the popularity of southern gospel music makes the Church Hymnal a great resource for these songs. Finally, the use of shaped-notes traditionally lends itself to familiarity of notation for many, especially those in the southern United States.
Purchase a Copy of the Red-Back Hymnal
If you would like to own a copy of the Red-Back Hymnal, you can use the following link to make your purchase. There is no additional cost to you, but when you make a purchase using this link, I will receive a small commission.
---
Church Hymnal, hardcover, maroon red
By Pathway Press

A treasure-trove of over 400 well-loved hymns, arranged for traditional piano and congregational shape-note singing! Features topical and general indexes along with nostalgic titles including "Amazing Grace," "Blessed Assurance," "Rock of Ages," "There Is a Fountain," "What a Friend We Have in Jesus," "Echoes from the Glory Shore," and "Farther Along." Approx. 450 pages, maroon hardcover from Pathway.
---
Blessings,
Richard
For my latest articles and resources, subscribe to my email and newsletter.
Other articles you may be interested to read include Great Songs of the Church or Gospel Hymns Nos. 1 to 6,
Resources