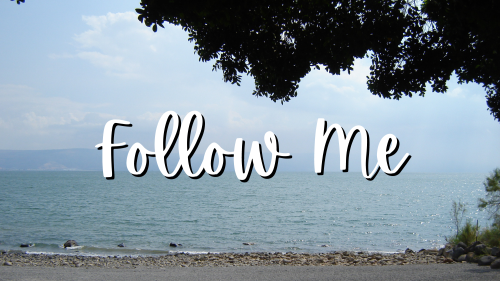 In your mind's eye, follow me to the Holy Land. There I've seen the Sea of Galilee when it was smooth and calm, never stormy with great waves as we so often hear the stories of the Bible narrated. It has been my experience to launch out in a boat with other visitors to the Holy Land and to float gently while a devotion was given and songs were sung. The trip to the Sea of Galilee, also called Lake Tiberias or Gennesaret, is a highlight of any pilgrimage to Israel.
Along the shores of the sea, besides Tiberias, we find the ancient ruins of Magdala, the ruins of Capernaum, and the site of Beatitudes.
Once many years ago, I was able to co-host a tour of the Holy Land. Our trip led to a multi-night stay in Tiberias. Each day one of us led a brief devotion as we gathered on the bus before starting that day's adventures. On the morning after our first night in Tiberias we headed out to see the sites listed above. I was given the opportunity to lead the devotion for that day. My thoughts coalesced around two stories associated with the Galilee.
Jesus Says to Peter, "Follow Me"
Early in Jesus' ministry, He was walking along the shore and saw fishermen at work. The gospel of Mark relays the story in this way:
"As He was going along the Sea of Galilee, He saw Simon and Andrew, the brother of Simon [we commonly know Simon as Peter], casting a net in the sea; for they were fishermen. And Jesus said to them, "Follow Me." (Mark 1:16-17a NASB – read the story here)
The second story is also by Lake Gennesaret. After Jesus' resurrection, in His last days of physical presence on earth, we find Him once again with Simon Peter. Jesus has revealed Himself to His disciples who had returned to fishing. As once before, they brought in a huge catch of fish at His instruction. Together they shared a meal there by the seashore and then Jesus turns to Peter. Here is the conversation where Jesus asks three times if Peter loves Him and tells him to "tend My lambs," "shepherd My sheep," and "tend My sheep." After a brief conversation about the days ahead, the gospel writer John ends this story with these words:
"So, Peter, upon seeing [the disciple whom Jesus loved], said to Jesus, 'Lord, and what about this man?' Jesus said to him, 'If I want him to remain until I come, what is that to you? You follow Me!'" (John 21:21-22 – read the story here)
What About Us?
It intrigues me that at the beginning of both His ministry and His relationship with Peter, as well as at the end, Jesus issues this call, "Follow Me!" This is what He wants from those who claim to be believers, Christ followers, Jesus people, disciples, people of the Way. It is what He wants of you and I.
Sometimes we want to make the rules complicated and very detailed. Obviously, it's not a do what you want and call it right. But, it is simple. Follow Jesus. Do the things that He would do. Love people. Challenge evil. Be as Jesus in our world.
I believe we have the same call from Jesus that Peter had, "Follow Me!"
Will we?
He Leadeth Me! O Blessed Thought!
He leadeth me! O blessed tho't!
O words with heav'nly comfort fraught!
Whate'er I do, where'er I be,
Still 'tis God's hand that leadeth me!
Sometimes 'mid scenes of deepest gloom,
Sometimes where Eden's bowers bloom,
By waters still, o'er troubled sea,
Still 'tis His hand that leadeth me!
Lord, I would clasp Thy hand in mine,
Nor ever murmur nor repine,
Content, whatever lot I see,
Since 'tis Thy hand that leadeth me!
And when my task on earth is done,
When, by Thy grace, the vict'ry's won,
E'en death's cold wave I will not flee,
Since God thro' Jordan leadeth me!
Refrain:
He leadeth me, He leadeth me,
By His own hand He leadeth me:
His faithful foll'wer I would be,
For by His hand He leadeth me.
"He Leadeth Me! O Blessed Thought!" Author: Joseph H. Gilmore (1862)
Blessings,
Richard